Hello, all. I am new to these forums and to Cities XL, more or less. I beta-ed the original, but wasn't impressed, never purchased the real game, and then, on a whim purchased this 'reboot.' I've been having fun, and all the stuff that's on here has really inspired me and made me try some things. My machine is okay, and with the bugs of the game, my cities start to get wonky around 100k. So, we'll see how far I can push this one. This is by FAR my best creation.
Since this is my first project here, I won't try to be all fancy with a story or anything like that. I'd like lots of critiques and help to allow me to improve. I'm not using any mods, and honestly, I don't intend to at the moment, unless they help the aesthetics of the game. Please, critique away!
Ah, City Hall of New Kemah. It's quite grand, considering the population is about 80K. It sits on a small peninsula surrounded by a park.
Here is the center of the first circle. Residents on the outskirts, offices as you move inward, with small sections of residents to cut down on commutes as much as possible. I've taken to laying down small roads and replacing them with plazas to help make my parks look more 'organic.' I saw someone else do it, ha.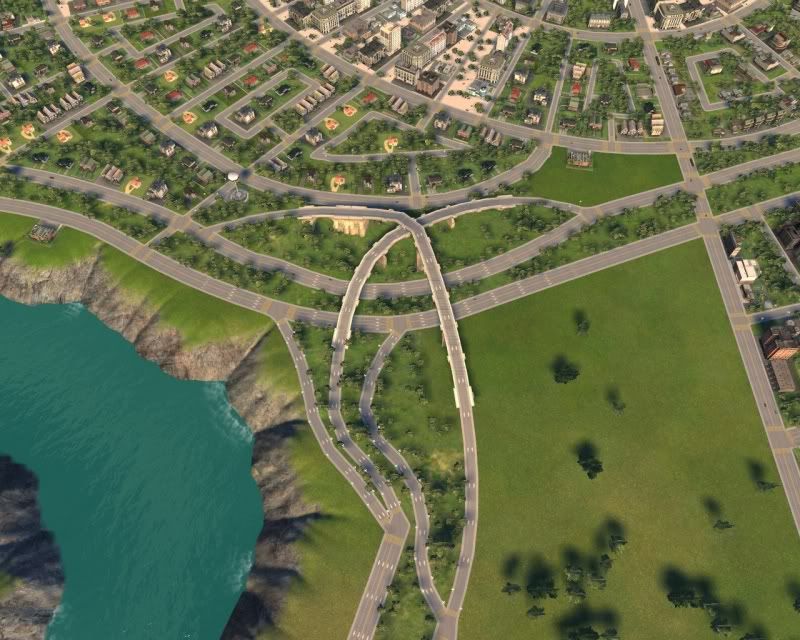 Here's a look at my first attempt at a custom interchange. This city is the first one where I've used one-way streets, let alone interchanges like this. It turned out okay, but the height of one of the ramps seems a bit excessive.
Between the coast and the bluffs is a narrow stretch of flat land that has become the 'higher-prosperity' hub of the little city. Most of the elites are located here, along with the bigger offices and what not. Again, trying to keep commute times and thus traffic to a minimum. I am displeased with how the lots end so abruptly along the coast.
Here's a better look at the whole 'circle.' Since it was the first area built up, it's still all low-density, mostly. A few medium density zones are nearer towards the center. More circle areas like this will follow, one--eventually--becoming 'downtown.'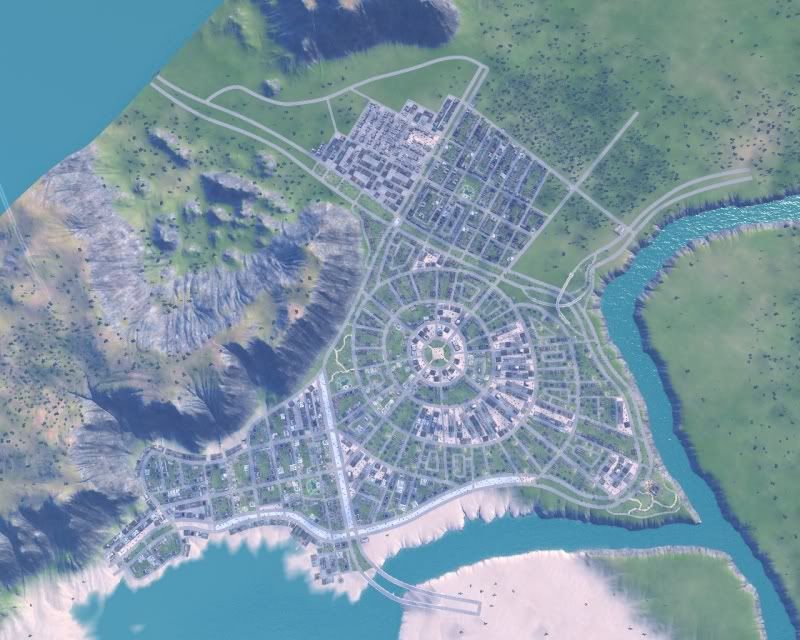 An overview of where the city currently stands. The next major expansion will be east, just adjacent to the interchange. That island could potentially be an airport...we'll see.
And because it seems the popular thing to do 'round here...a look at the traffic. Pretty good--at least for me!
So there ya go. Thanks for looking. Any comments and critiques are more than welcome.